2 weeks till Connichi and I'm SCARED!
Eric phoned today and told me that yesterday he SUDDENLY realized, that his school trip collapses with the Connichi. SUDDENLY! MAAAAAN we fixed the tickets/hotel blah in January/March O_O;;;;
Hmmm now he's trying to find a solution to come to Kassel on Saturday (at least)
I hope he will manage it - firstly it would be truly sad not to have him around, secondly I'm simply not able to pay his money back for the hotel and ticket... I mean, I would find persons who'd need a ticket, but aaah ~~~
But he said, since it's his fault, that he didn't notice the coincidence, he wouldn't expect me to pay him back. What's even more shitty, cause I would feel bad for it >____<~~~
Gnaaaah, I hope he will make it.
Scared, the 2nd: I'm afraid of sewing the frills to my blouse - today I tried to make some and I totally failed (okay, it was bitchy fabrics, but still.. aaaaahm >____<)
Haaaah, but I have to do it! Go, go Qan! Don't be scared! xD;
What's good?
The weekend was awesome! AWESOME! It was so much fun to have my cosplay-group around~ aaah I feel so good for I've asked in the forum to make a group. It seems we fit perfectly together - there is no whining, no stress, no uber-pressure - only the fun in cosplaying and acting. YOSH!
We did rehearses and also took the recording for our performance. Right now I'm still working on cutting and putting it together~
It's just so senseless... and dorky and waaaah FUN!
If some you attend the Connichi and will be able to see the Cosplay-Contest on Saturday - plz watch us! :D~
Today my make-up for Rhode arrived and I tried it. WOAAAH *_* I had fear, that it would schmear (OMG! This word actually exists. LOL!! Love it!) but it does not! If I put some hair spray on it, it will be longlasting like the tortures of hell xD;
Fielmann also called and said, that my contacts are there... hmmm btw, I should go there and get 'em xD;
What else? Aww~ hmm I'm not in mood for posting all the G|C-photos anymore. The whining on animexx ennerved me too much. If some of you want to see them, anyway, go
HERE
.
Aaaand uuuuhm... this is for

abulic_puppet
since you wanted to see a photo of me as Naminé, here you gooo: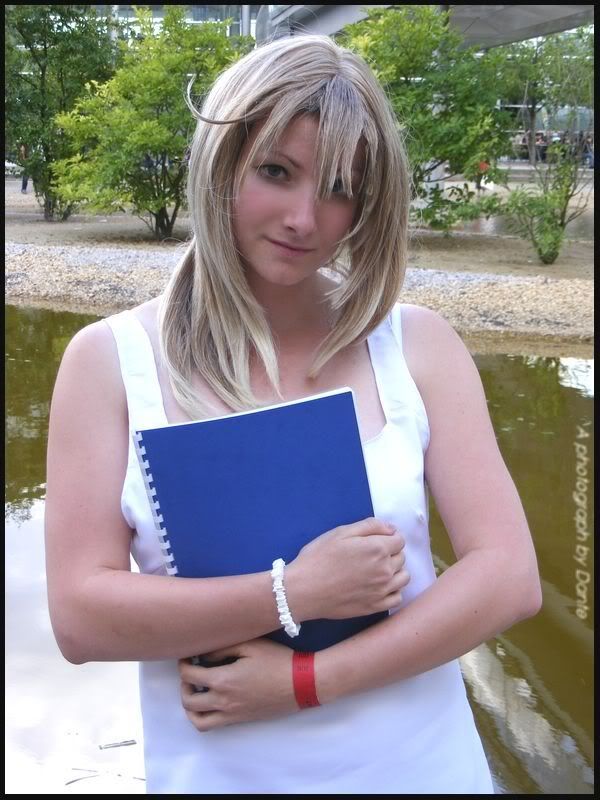 (photo taken by
Dante
Thanks again <3)
That'd be all for now - bye, bye, dudes!